For you, with passion, humility, respect for his earth, Patrick Drouet creates
Craft& original Cognacs

The Barrel Strength Collection
Leveraging his experience as Master Distiller and Cellar Master, Patrick Drouet created in 2017 a range of Craft Cognacs bringing together his passion for terroir and his desire to disrupt existing rules in the Cognac industry. This new range "the Barrel Strength Collection" offers unique and original vintage Cognacs, bearing the stamp of the cask in which they are aged.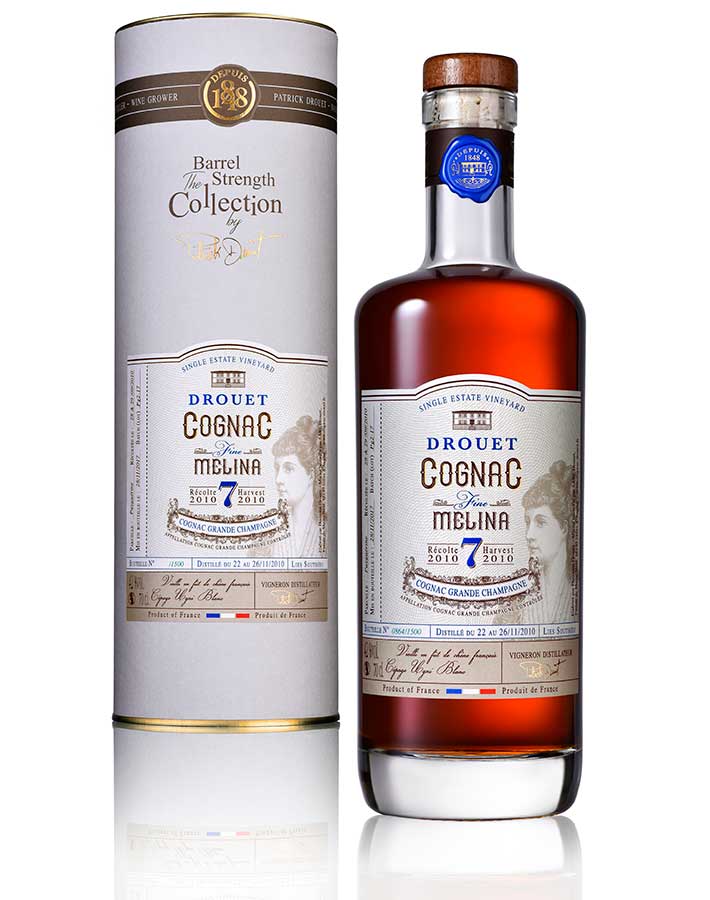 Fine Mélina 2010
A Cognac that breaks the rules
Fine Mélina is a Cognac that was distilled without wine lees, which brings it freshness and lightness. It has the particularity of having been exclusively aged in older casks that have been used for prior ageing of eaux de vies.
Cru : Grande Champagne - 1st Cru.
Color : amber due to its ageing in older oak casks.
Nose : delicate and rich with notes of prune and chocolate.
Palate : pleasant length and finesse. Charming aromas of vanilla scented wood and fig, but also pear.
A Summerlike Cognac
This release at 42% ABV was aged in small quantities and offered in a limited series of 1,500 bottles that are individually numbered.
Please note :
• Melina ? The second daughter of Patrick Drouet who has the same name as the daughter of the estate's founder in the 19th century.
INSPIRED FROM THE EARTH, SON OF THE DOMAIN
our Cognacs

born from the imagination of the cellar master, Patrick Drouet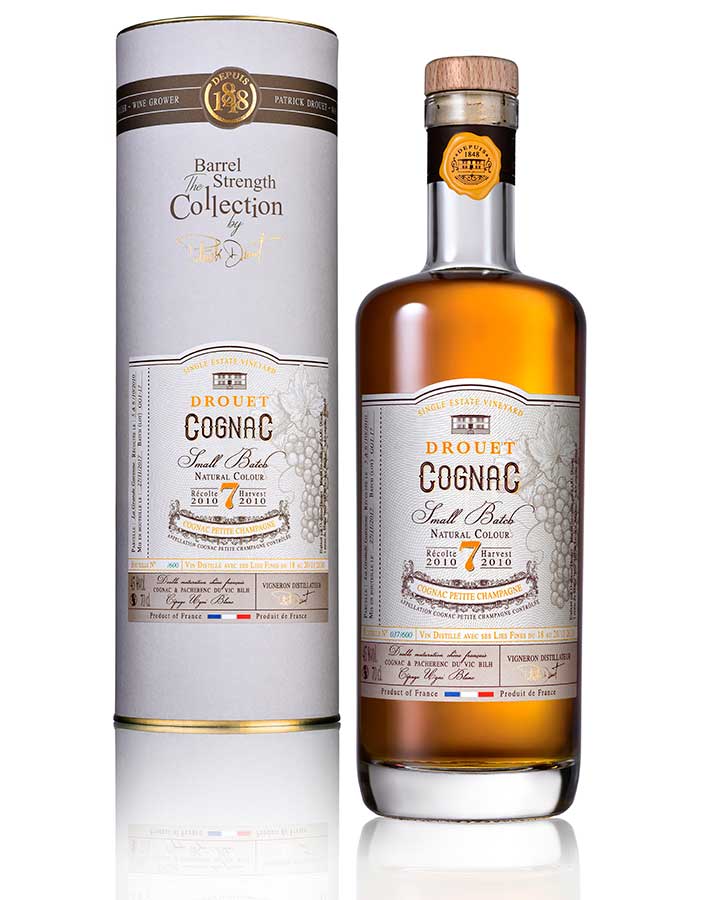 Small Batch Pacherenc du Vic Bilh Finish
The first Cask Finish of Domaine Drouet
Patrick Drouet experimented a double maturing process: this very limited series of Petite Champagne 2010 was first aged in Cognac casks before being matured for 9 months in casks that had contained Pacherenc du Vic Bilh, a dessert wine from South West France.
Cru : Petite Champagne - 2ème Cru.
Color : clear, golden yellow.
Nose : fruit notes, vine peach, honey.
Palate : warmth, balance and long persistence. Agreeable sweetness infused with vanilla sugar and also citrus notes.
A Springlike Cognac
This Cask Finish Cognac constitutes an original series of only 600 individually numbered bottles. It was bottled with an ABV of 45% and will delight Whisky enthusiasts.
Please note :
• Distilled from November 18 to November 20 2019, stemming from the parcel of the Grande Garenne.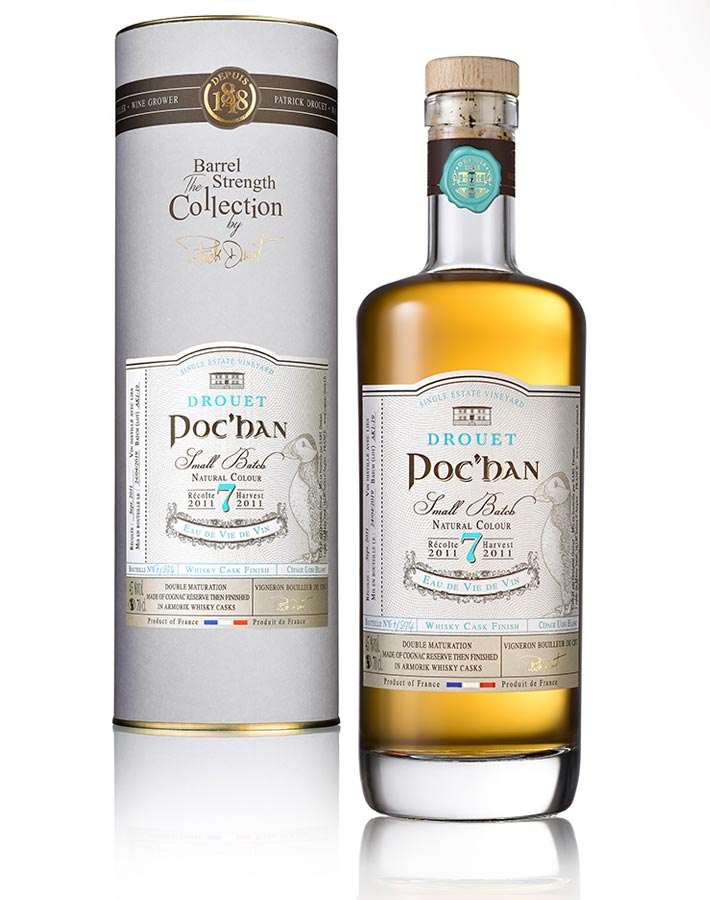 Small Batch Poc'han 2011
Eau-de-vie (wine spirit) Whisky Cask Finish
Patrick Drouet lost the Appellation but the need for experimentation was too strong :
After ageing his eau-de-vie in Cognac barrels for 5 years, he put it in casks he brought back from Brittany and which had been used to produce an Armorik whisky. He had to wait 2 years of finishing to be satisfied by the result and to proceed to the bottling.
Process : Double maturation. Made of Cognac Réserve then finished in Armorik whisky casks.
Color : straw yellow, bright.
Aroma : pleasant fragrance of cereals, warm and sunny straw, followed by cask toasting aromas.
Taste : remarkable finesse on the palate comparable to that of a young whisky, with hints of Canadian apples. Overripe fruit aromas with subtle peat and salty notes gradually emerge where we find more the typical cognac taste.
Innovate but with fun
Limited edition : 594 bottles were bottled from only 2 casks and then hand numbered. At 45% ABV, Poc'han will appeal to audacious people. To drink neat or on the rocks as an aperitif.
Please note :
• Poc'han is the breton name for the seabird you can find on this beautiful label : the puffin.
WITH PASSION, PATRICK DROUET CREATES for you
our Cognacs
and the stamp of the cask
in which they are aged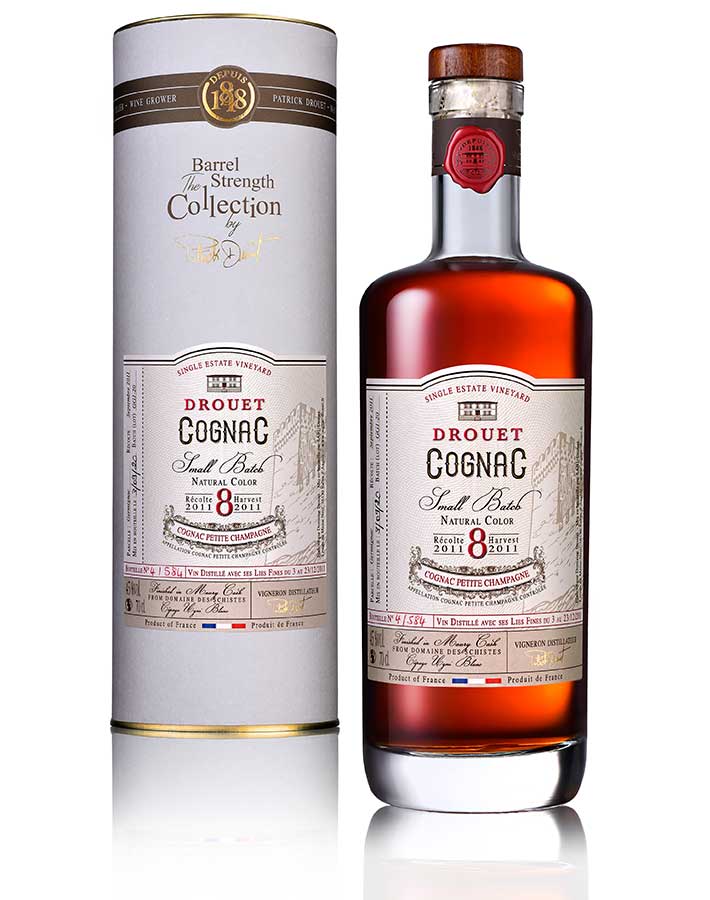 Small Batch Maury Cask Finish 2011
A cognac with an original double maturation, inspired by the Cathar country
Following the success of his first innovative Small Batches, Patrick Drouet partnered with the famous Domaine des Schistes in South of France to age his cognac in old barrels of Maury. 24 months: it was the amount of time necessary for him to be satisfied by the result.
Cru : Petite Champagne - 2ème Cru.
Color : Pale mahogany.
Aroma : Powerful, smooth and expressive. Aromas of red fruits, plum and cinnamon.
Taste : After a vivid attack with aromas of ripe apples and candied fruits, we enjoy the silkiness and roundness of the Maury with notes of dried raisins, blackberries and caramel. A lingering finish with waxy notes of cherry.
Never seen before!
Limited edition: This Cognac cask Finish, vintage 2011, has been bottled at 45% abv in September 2020. There are only 584 bottles all hand-numbered.
Please note :
• Incredible daring to age characteristically golden yellow cognac in barrels of natural sweet red wine! But what a success!